FYSICA
FYSICA is the annual physics conference of the Netherlands' Physical Society (NNV). Each year the NNV organises FYSICA in cooperation with a Dutch university. So every year FYSICA takes place in another city, according to a roster.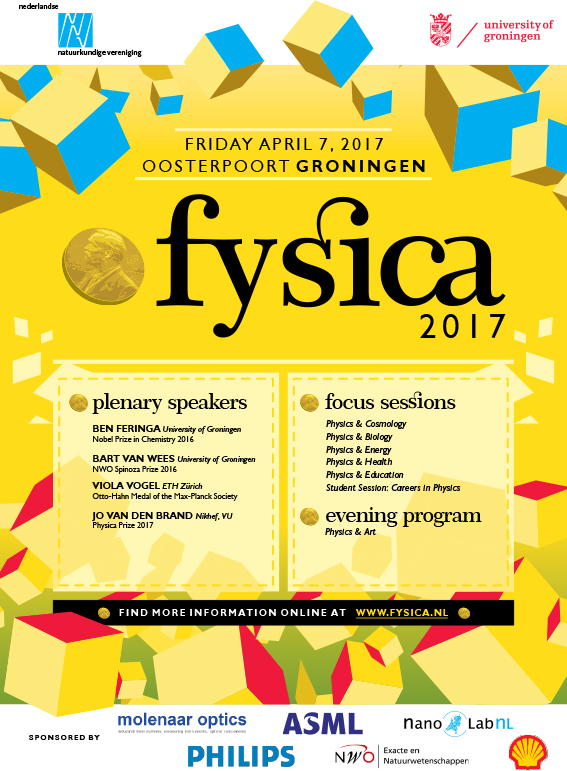 FYSICA 2017 will be in De Oosterpoort in Groningen on Friday April 7, 2017.
All physicists (students, teachers, physicists working in industry, academia, public service) are warmly invited to attend the FYSICA-meeting. FYSICA 2017 is an excellent opportunity to meet each other and to network.
Venue
It takes only 10 minutes to walk from Groningen Central Station to De Oosterpoort. The plenary program of FYSICA 2017 takes place in the Kleine Zaal of De Oosterpoort in Groningen. The registration desk of FYSICA 2017, were you can pick up your badge, is situated near the main entrance of the Oosterpoort. The site of the Oosterpoort offers the possibility to take a look in the building.
Click here to find out how to reach De Oosterpoort.
Validatie door Registerleraar.nl
FYSICA 2016 is gevalideerd door Registerleraar.nl. Dat betekent dat FYSICA 2016 officieel is gecertificeerd als nascholing en dat docenten FYSICA 2016 kunnen opvoeren als nascholingsuren. Onderstaand logo staat hiervoor garant. Het activiteitennummer is bBgsbDYqjw, het gaat om 9 registeruren. Ook FYSICA 2017 wordt ter validatie aangeboden aan Registerleraar.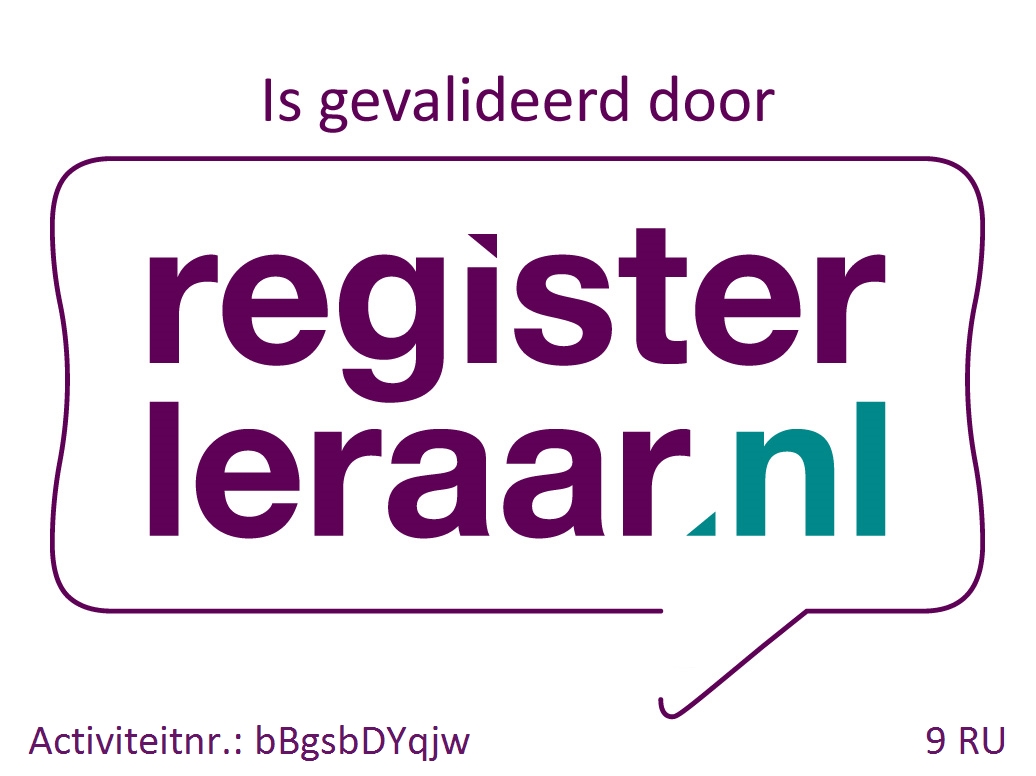 Organisation of FYSICA 2017
The organising committee of FYSICA 2017:
Beatriz Noheda (RUG) - chair
Steven Hoekstra (RUG) - chair
Noortje de Graaf (NNV)
Renate van der Tuuk (RUG)
Anton Jansen (T.F.V. 'Prof. Francken')
Sander Vermeulen (FMF)
Focus sessions:
Physics & Cosmology (chair: Rob Timmermans)
Physics & Biology (chair: Patrick Onck)
Physics & Energy (chair: Giuseppe Portale & Maria Loi)
Physics & Health (chair: Sytze Brandenburg)
Physics & Education
Student Session (organized by Thomas Mutter (FMF), Susan van der Woude (FMF) & Klaas van der Veen (Prof. Francken)
Registration:
Anja Al (NNV)
Debora van Galen Last (NNV)
Design poster FYSICA 2017:
Robert van der Meer and Esger Brunner