FYSICA
FYSICA is the annual physics conference of the Netherlands' Physical Society (NNV). Each year the NNV organises FYSICA in cooperation with a Dutch university, in 2020 with University of Twente. So every year FYSICA takes place in another city, according to a roster.
Recordings available: online edition of FYSICA 2020 at April 17th.
FYSICA 2020 was planned at University of Twente on Friday 17 April 2020. Due to the corona virus, it was not possible to organise FYSICA at University of Twente at this date.
The good news is that we were able to organise an online edition of FYSICA 2020 at the same date.
By a short questionnaire we found out that many people are interested in a short, online physics event. We are delighted that both Nobel Prize Laureate Didier Queloz as Physica Prize Laureate Martin van Hecke accepted our invitation to give an online talk. An online edition of the Young Speakers Contest was part of this event in Zoom as well.
Program of the online event at April 17th, 2020:
14h10: Opening by NNV-chair Diederik Jekel
14h15: Lecture Didier Queloz on exoplanets (Nobel Prize 2019)
14h40: Lecture Martin van Hecke on designer matter (Physica Prize 2020)
15h00: Finals Young Speakers Contest (3 x 10 min.)
15h00: Anne Meeussen (Amolf/UL): The peculiar effect of a small error
15h10: Athira Menon (UvA): How well do we know our stars?
15h20: Luca Bouwmeester (UT): The insulator-to-metal transition in BaBiO3
15h30: Online voting for Young Speakers Contest and award ceremony (NTvN-Prize, Physics Teacher of the Year 2020, NNV-hbo-Jong-Talentprijs 2020)
15h40: Closing words by Diederik Jekel including announcement winner of Young Speakers Contest
15h45: End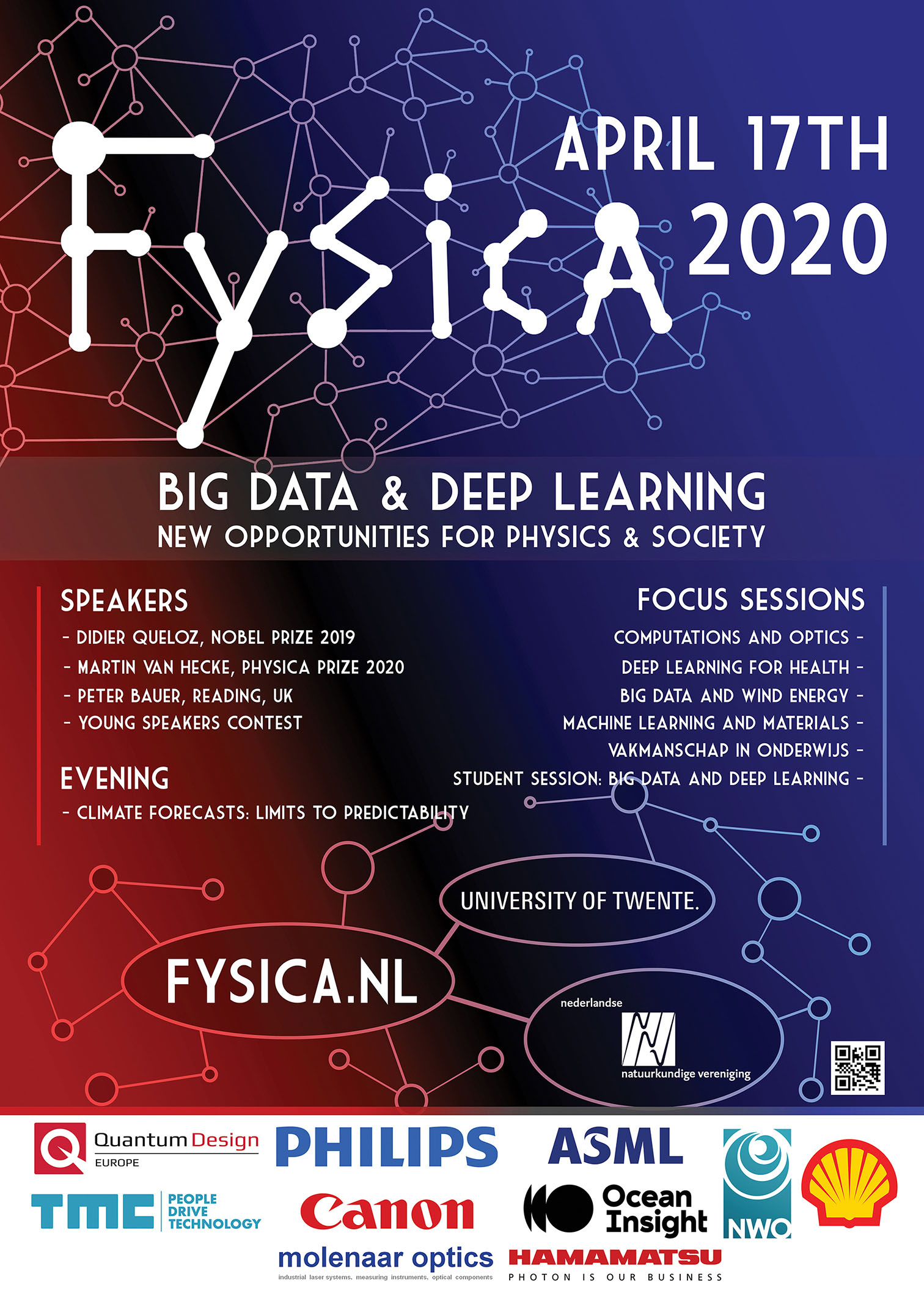 Organisation of FYSICA 2020
The organising committee of FYSICA 2020 consists of:

Jennifer Herek
Annelies Klos
Stefan Kooij
Anneke Kolhoop
Detlef Lohse
Willem Vos
Harold Zandvliet
Bart Folkers (S.V. Arago)
Noortje de Graaf (NNV)
Registration:
Anja Al (NNV)
Debora van Galen Last (NNV)