FYSICA
FYSICA is the annual physics conference of the Netherlands' Physical Society (NNV). Each year the NNV organises FYSICA in cooperation with a Dutch university. So every year FYSICA takes place in another city, according to a roster.
In 2022 FYSICA will take place on Friday 22 April. Block this date in your diary!
FYSICA 2021 took place on Friday 16 April 2021 in the afternoon. Most parts of the program were virtually (in Zoom). Because we celebrated the centennial of the Netherlands' Physical Society, it was our treat: everyone could attend FYSICA 2021 free of charge!
We are delighted that both Nobel Prize Laureates Reinhard Genzel AND Roger Penrose did accept our invitation to give a lecture. An online edition of the Young Speakers Contest was part of this event as well. The Physica Prize 2021 was awarded to Daniel Bonn and he gave a lecture too. An entertaining physics pubquiz was the closing activity of FYSICA 2021. At FYSICA 2021 we celebrated the centennial of the Netherlands' Physical Society.
FYSICA 2021 was recorded. The video takes almost 3.5 hours, this is a guide for watching:
00.00.00 - Introduction and welcome with historic documents out of our archives by Diederik Jekel, chair

00.12.00 - Introduction of the new vice chair Christa Hooijer

00.13.18 - Awarding NTvN Prize by Christa Hooijer

00.19.00 - Awarding NNV hbo Jong Talentprijs 2021 by Christa Hooijer

00.29.00 - Physica lecture by Daniel Bonn: 'Aerosols and the transmission of the Coronavirus'

00.52.33 - Lecture by Jeroen van Dongen: 'History of Dutch Physics and Founding of the NNV'

01.09.50 - 5 minutes break

01.15.30 - Introduction Young Speakers Contest

01.17.25 - YSC: Sonakshi Arora: 'How robust is robust?'

01.26.38 - YSC: Thijs van Eeden: 'Mysterious messengers from the Universe'

01.37.19 - YSC: Adela Melcrova: 'No pores: The unexpected physics of a new antibiotic'

01.50.10 - Leiden wall formulas by Sense Jan van der Molen and Ivo van Vulpen

01.59.10 - Royal ceremony by the commissioner of the King in Noord-Holland Arthur van Dijk

02.05.20 - 5 minutes break

02.11.15 - Nobel lecture by Reinhard Genzel: 'A Forty-Year Journey'

02.33.10 - Nobel lecture by Roger Penrose: 'The Space-Time Singularities of Black Holes and Cosmology'

02.59.50 - Virtual labtour Van Swinderen Institute RUG, introduced by Steven Hoekstra

03.17.30 - Tikkies

03.19.05 - Awarding Natuurkundedocent van het Jaar 2021 by Christa Hooijer

03.23.27 - Awarding winner Young Speakers Contest by Christa Hooijer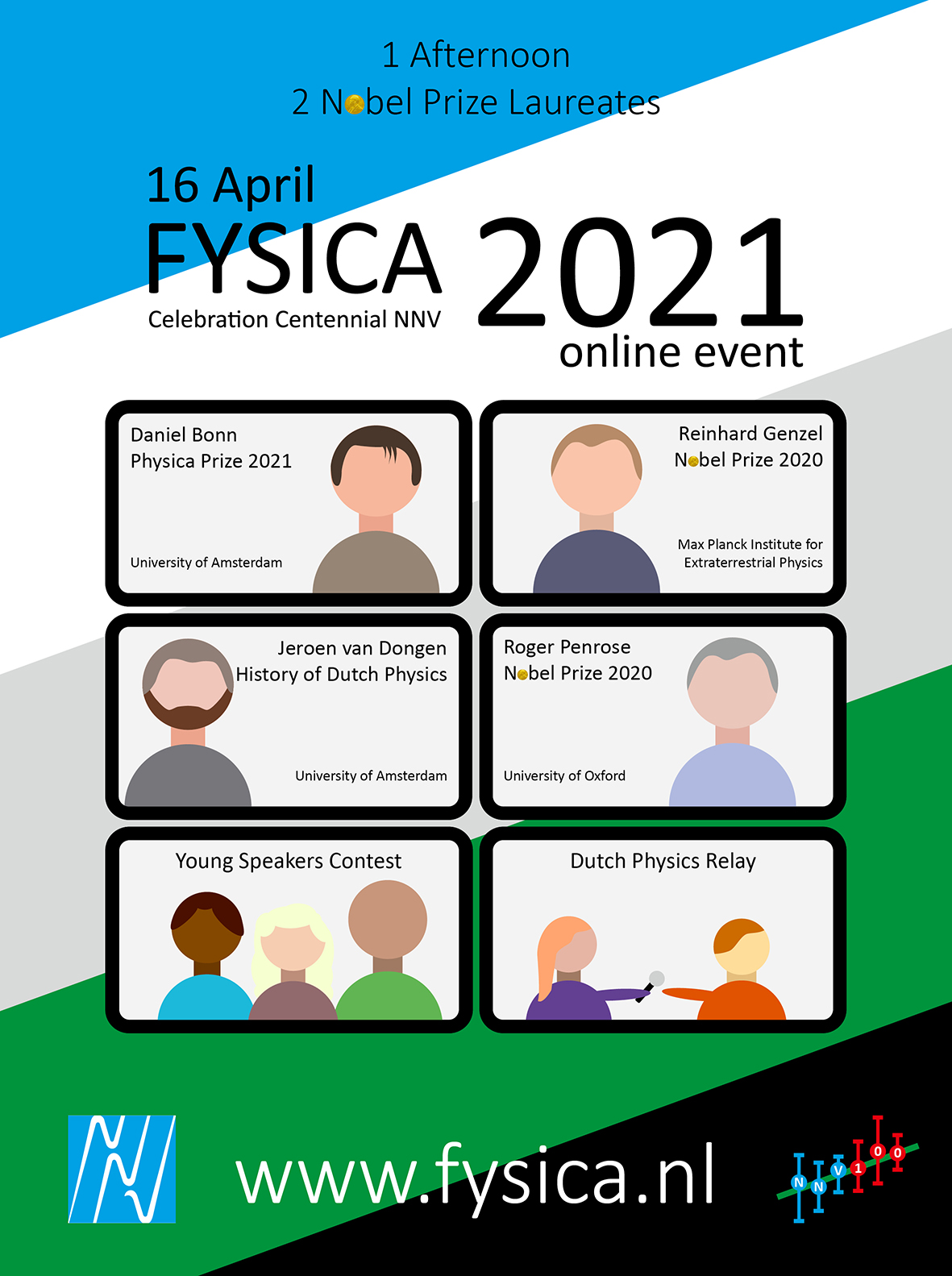 You can download the FYSICA 2021 poster here.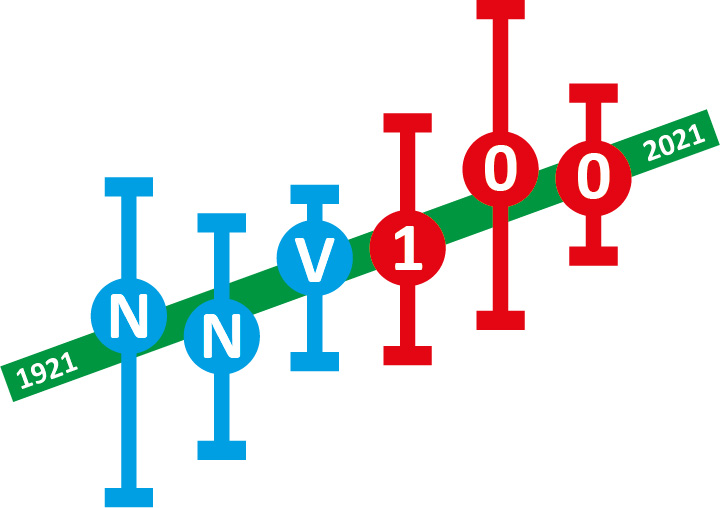 Organisation of FYSICA 2021
The organising committee of FYSICA 2021 consists of people from all over the Netherlands. You can contact the organisation by Noortje de Graaf (NNV).
Registration:
Anja Al (NNV)
Debora van Galen Last (NNV)