FYSICA
FYSICA is the annual physics conference of the Netherlands' Physical Society (NNV). Each year the NNV organises FYSICA in cooperation with a Dutch university, in 2018 with Utrecht University. So every year FYSICA takes place in another city, according to a roster. Fysica 2019 will be held on Friday April 5, 2019 at Amsterdam Science Park!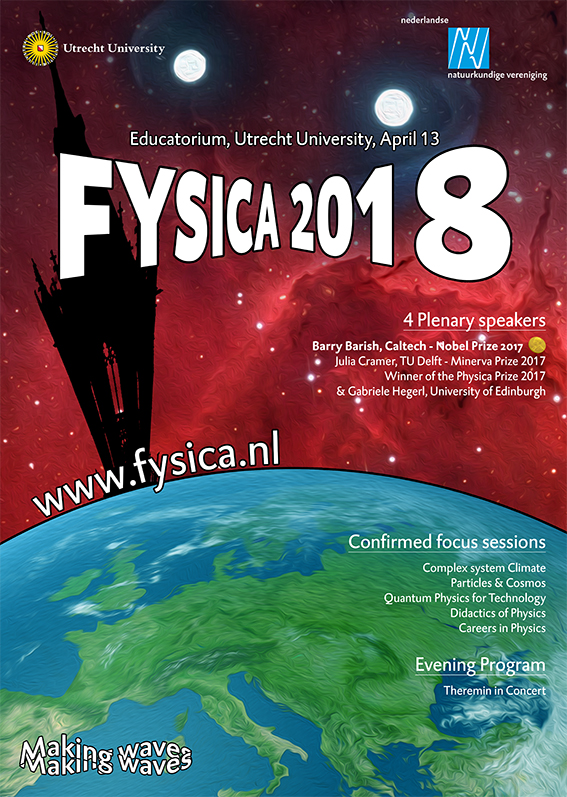 FYSICA 2018 was in Utrecht, on Friday April 13, 2018.
500 physicists (students, teachers, physicists working in industry, academia, public service) attended the FYSICA-meeting, an excellent opportunity to meet each other and to network.
Venue
FYSICA 2018 was held at the Educatorium and Ruppert buildings at De Uithof
The plenary program of FYSICA 2018 took place in the Theatron theatre of the Educatorium building and adjacent rooms. The Educatorium is on the main Uithof campus of the university and in easy reach from many directions. Click here to find the website of the Educatorium itself.
Validatie door Registerleraar.nl
FYSICA 2018 is NIET gevalideerd door Registerleraar.nl omdat dit op dit moment niet mogelijk is: het lerarenregister is tot augustus 2018 gesloten.
Organisation of FYSICA 2018
The organising committee of FYSICA 2018:

Allard Mosk (UU) - chair
Dries van Oosten (UU) - chair
Hester Pruiksma (UU) - local organizer
Michiel Thijssen (NNV)
Noortje de Graaf (NNV)
The program committee:
Saskia Blom (Fontys Eindhoven)
Anna von der Heydt (UU, IMAU)
Andre Mischke (UU, Subatomic Physics)
Allard Mosk (UU, Debye Instituut, local organizer)
Dries van Oosten (UU, Debye Instituut, local organizer)
Enrico Pajer (UU, Theoretical Phyics)
Sarita de Berg (UU, Student)
Registration:
Anja Al (NNV)
Debora van Galen Last (NNV)